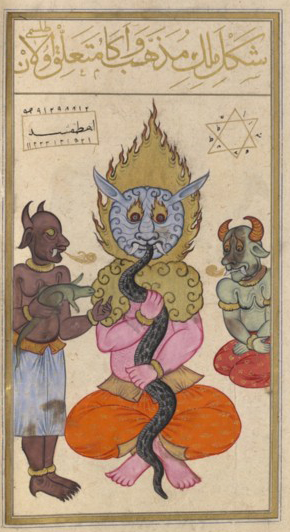 Al-Mudhib Abba Deebaj (The Golden One, father of Silk Brocade) is the son of El Harth, known also as Abu 'Abdallah Sa'id (ابو عبدالله سعيد المذهب), the golden king (malik al-mazhab) is the lord of Sunday, the Sun (Syams), the color yellow or black and the metal lead and is monitored by the angel Ruqiayil (روقيائيل). He is represented as an infernal spirit devourer of snakes, flanked by two acolytes. Painted in light blue, his head is topped rounded with long ears, and flaming eyes. His head is surrounded by a halo of golden fire, his upper torso flames above his pink body and he is shown wearing large orange pants. On each side of the image there are two talismans, one is shown as a six-pointed star-shaped talisman which represents the seal of Solomon, and another shown as rectangular, both of which are used to invoke him. Al-Mudhib is the offspring of the sun goddess Shams, and possesses all secrets of occult knowledge such as the transmutation of gold and the workings of the sun. This jinn is associated with the incense sandarus (Arabian sandarac).
His full name is:
عبد ﷲ بن باء بن عفص بن مرزبان بن شاهن
'bed Allah Ben Ba' Ben 'afeṣ Ben Marzban Ben Shahen al-Maḏhab
His nickname is:
ابا سعيد المذهب
Aba Sa'īd al-Maḏhab
He is one of the jinn present during King Solomon's time. He is one of the Eastern kings. He is under the domain of Master Jalyut. He has over 360 different tribal families under his control. He possesses the secret of transmutation into gold and all the other workings under the sphere of the Sun.
This is a powerful and mighty family known for their wisdom, knowledge, and mastery of the occult craft. One of the most famous of his children and his heir is the prince:
سعيد ابن المذهب
He has also a famous daughter whose moniker is the ruby of luck and joy. Her name is:
عائلة بنت المذهب
He has seven palaces associated with the movement of the Sun that he travels between while administrating his dominion. He has six ministers under his leadership. Their greatest is known as:
فرعهيد السياف
His corresponding Element is Fire. His metal is gold. His incense is Sandarac. He is associated with the first glyph of the Great Name.
His seal: Draw a six pointed star. On each triangle of the star write part of his name without the inclusion of "Ben". You should end with his title. Then write his full nickname in the center. Write the following numeric sequence (right-to-left) three hundred and sixty times around the six pointed star:
551352512724529875212525331427
Invocation
Edit
AJIB YAA MADZHAB MAA A'ZHOMA SULTHOONILLAAHI AHTAROQO MIN 'ASHOLIYALLAAHI BI NAARIHIL MUWAQQIDATI AHNAA (2X), TAAHIN (2X), HANUUHIN (2X), AHYAN SYAROOHIYAN ADUUNAAY ASHBAA-UUT AALI SYADDAY YAAHIN (2X), SUBBUUHUN MAA A-AZZA SHOBAWUTIL QODIIMIL AZALIY AJIB YAA MADZHAB BIHAQQI SUBBUUHUN QUDDUUSUN ROBBUL MALAA-IKATI WAR RUUH, ALUUHAN (2X), AL-AJAL (2X), AS-SAA'AH (2X).